ARC SHOP DUES AT WORK
One of the very best things about the ARC is the ARC shop. A lot of tenants here never use it but there are a lot that need it once ever few months. (aside from the regular users) It can come in real handy if you have a one time project that you need to work on. On top of that if you are not sure about some of the tools in there Mario, our shop "foreman" so to speak, can give you some pointers. After all we are very concerned about keeping blood stains off the equipment. Not only that bone chips can jam up moving parts and cause even more damage. So even though you might not use our shop often when you do need it you will find it a Godsend!!!
Now even though it is a bit of a tricky process our shop here is also in a state of constant evolution. All the dues I collect get stashed in a separate account and eventually go back into buying new tools, blades etc etc. What makes this tricky is basic maintenance eats up the bulk of them.
Below is the changes that have taken place since September 2015. Basically your "tax" dollars at work.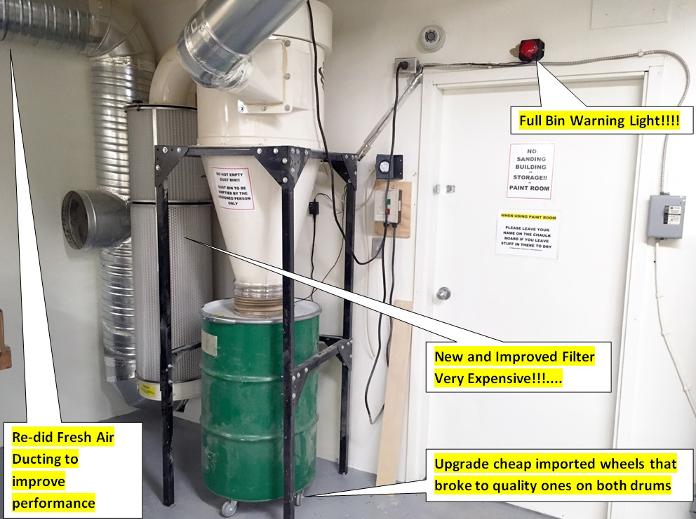 Shop Dust System and Ventilation System
The old dust system filter was shot about seven years ago. The replacement cost of this filter was crazy. Recently though they came up with a far better replacement filter. It was still crazy expensive but works incredibly well!!! This system is pretty well the best system money can buy... Oneida... made in the USA!!! With the new filter it works like the day it was new fourteen or so years ago.
What ruined the last filter was the system being run when the drum was full. This forced the dust into the filter. Now we have a bin sensor. Once the drum gets so full the red light start to flash. Luckily the light is near the camera so I will be able to see it flashing and who is still using the saw. That way I can tell the rest of the shop users so we can drag the "'abuser" out back to the alley for some lessons.... we don't like blood in the shop. : )
Now I also did some serious renovations to the ventilation system. This is going to make our finishing room hugely better and actually help the dust system work even better than it already does.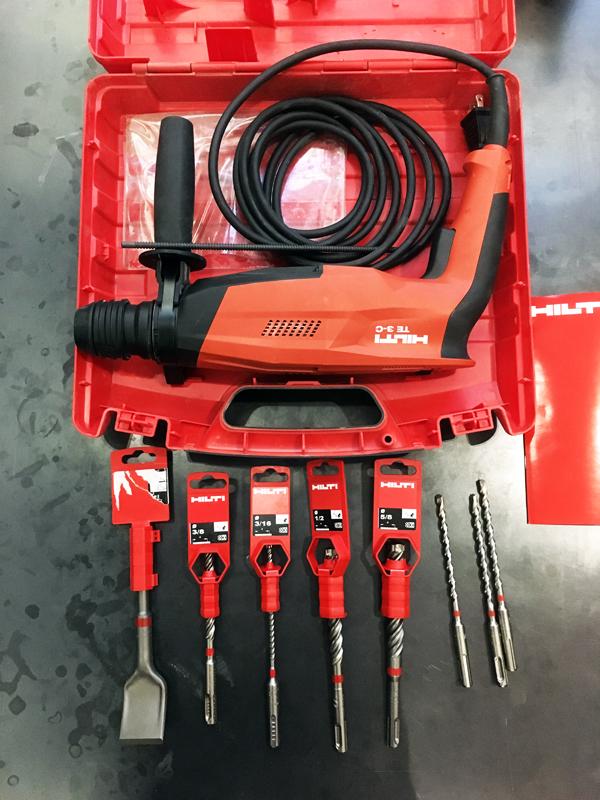 SHOP HAMMER DRILL
This was a bit of an odd situation. The ARC needed a hammer drill and was having trouble for some strange reason getting it approved by the head office. Thus using shop dues I bought this one new from Hilti. I keep it in my studio and if anyone needs a hammer drill (for in building use only) then they can rent it for $10 a day. Hopeless Depot charges $20, you have to drive to get it and you have to have your own bits. The money I collect goes back into the shop dues to help pay it back. These are incredible drills.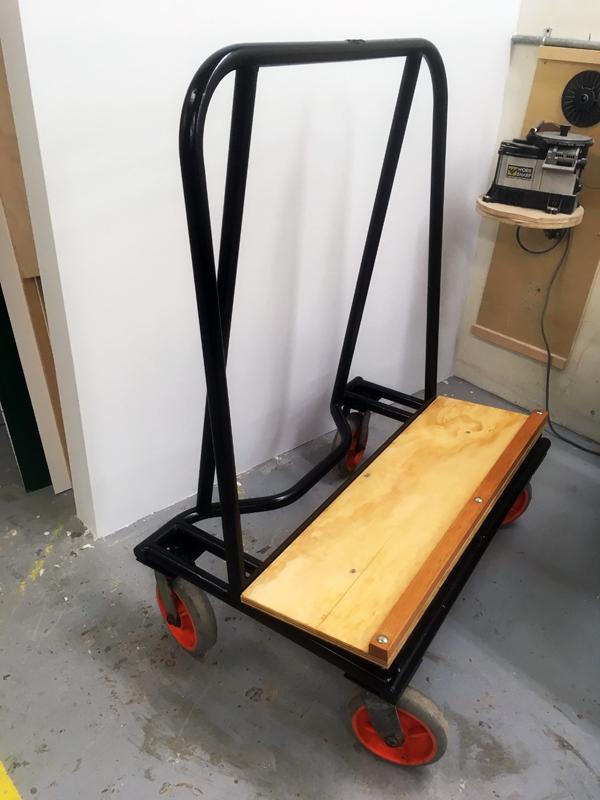 MATERIAL HANDLING DOLLY
Now no shop is complete without a material handling dolly. This one I scored on the cheap. It was beat to hell. Thus using shop greenbacks and a lot of elbow grease I restored this one back to usable condition for way cheaper than buying a new one. Though the ARC has a lot of dollies for tenant use this one is strictly for shop users and must always be returned to the shop after use. The game here is to try and make the minimal shop dues go as far as they can... not always an easy job.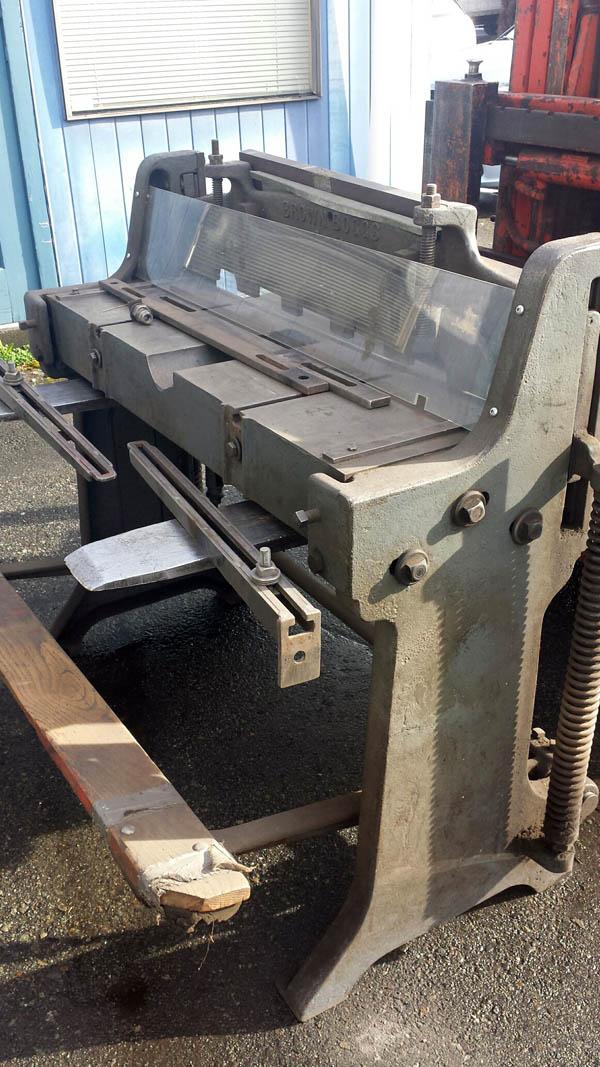 VINTAGE STEP SHEAR
The next major purchase was this vintage step shear. A newer version of this shear shipped out of the US of A would run about 8 to 12 thousand Canadian. This gem is better and was a hell of a lot cheaper!!! It has been set up on the base so can be moved against the wall when not in use. This thing will cut up to 18 gauge sheet steel perfectly. It works great also for cutting cardboard and other softer materials when you need a perfect straight and square cut. I originally picked this gem off of Kent Metals in Richmond. After some serious clean up and building the base it was moved to the shop.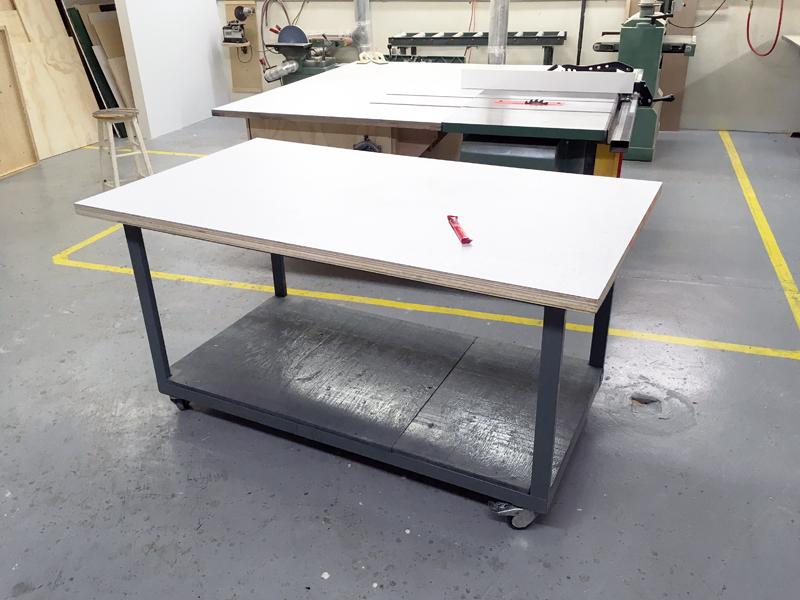 EXTRA TABLE SAW BENCH
If you have ever tried to cut a 4" strip off a 4 x 8 foot sheet of 1" medite in bare feet, late at night, wearing only your underwear you will really appreciate having this extra table!!! This is actually a multi-use table but it's main purpose was for those late night wood workers ripping heavy medite by themselves.... even though I have now cut all the medite I need others in the future will also find it very handy.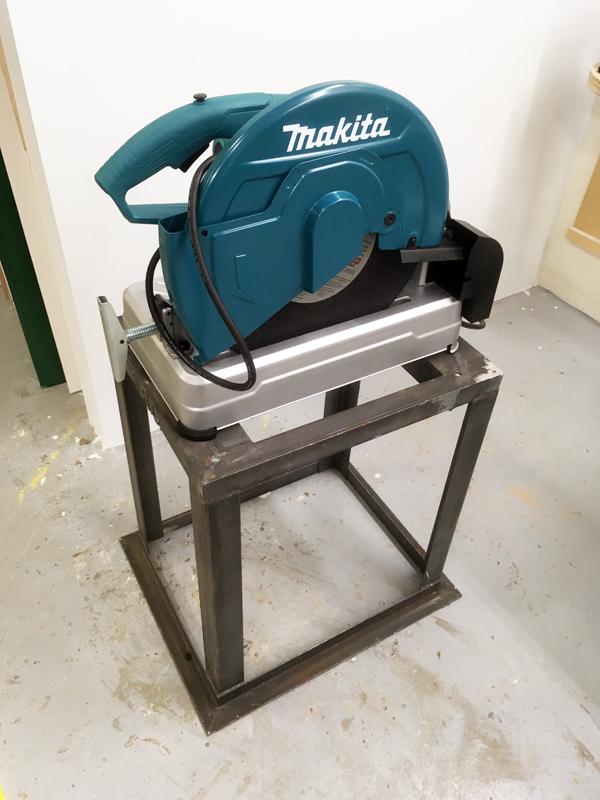 NEW CHOP SAW
After our old Mill Walker chop saw fell apart it was time to upgrade to this new Makita. Though the old Mill Walker still ran good someone lost the main nut and washer along with some other hard to get parts. This new one does have some advantages over the old one though which is nice. Mostly the quick angle set feature.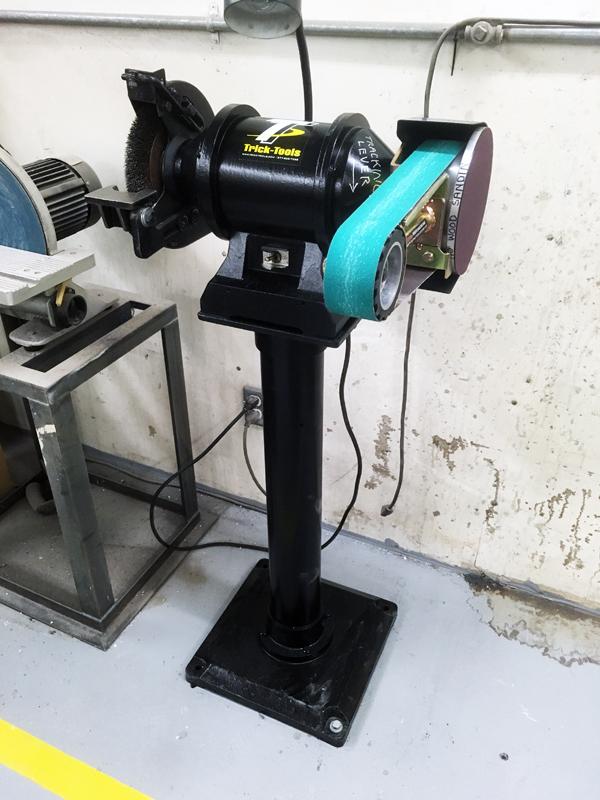 NEW MULTI TOOL BELT SANDER
This 3/4hp bench grinder originally had archaic and out dated grinding stones which were more popular back when we had to grind our own wheat to make bread. Thus they were ditched and the motor fitted with a brand new Multi-tool belt sander. These belt sanders though rather expensive are absolutely incredible. The belts never break and even a dull belt will take off metal about five times faster and smoother than a stone ever will. It takes mere seconds to change the belts and you can get belts as fine as 1200 grit. I personally have had one of these in my own shop for 12 years and absolutely love it.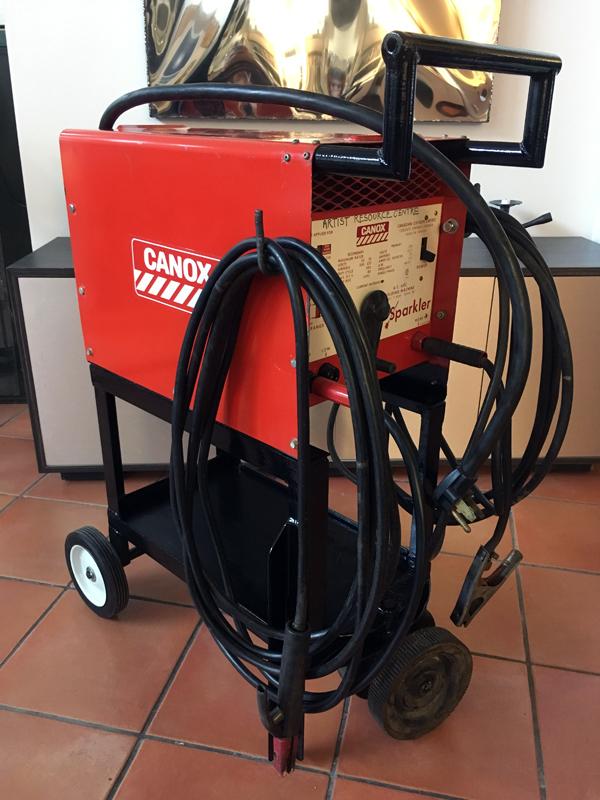 ARC STICK WELDER
At one point years ago we had a stick welder in the shop. It never got used so opted to let it go to make room once we got the new fangled wire feed welder. That was a bum move. Wire-feed welders are great.... if you got bottles and gas. The nice thing about stick welding is you only need rods.... which we provide. Thus if you need to stick a few pieces of metal together you can do it on the cheap with this beast! On top of that there are times where you can't beat arc welding. Since this one is mobile it can be signed out and taken to your studio.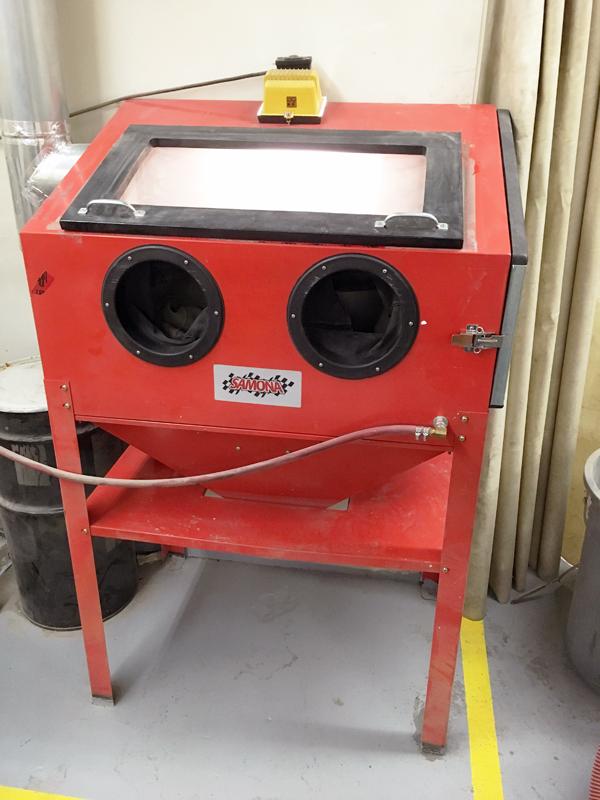 UPGRADE THE SANDBLAST CABINET
The next project that needed done was upgrading our sandblast cabinet. The blast handle was completely worn out along with the hose to that handle and all the replacement windows had been used up. Now we have a good stock of new windows. Replacing windows in this cabinet is hugely easier now. I originally modified the view window on this one. To change you just lift the window frame up, peal out the old vinyl window and tape in a new one. Fast and easy compared crawling inside the cabinet to change it originally.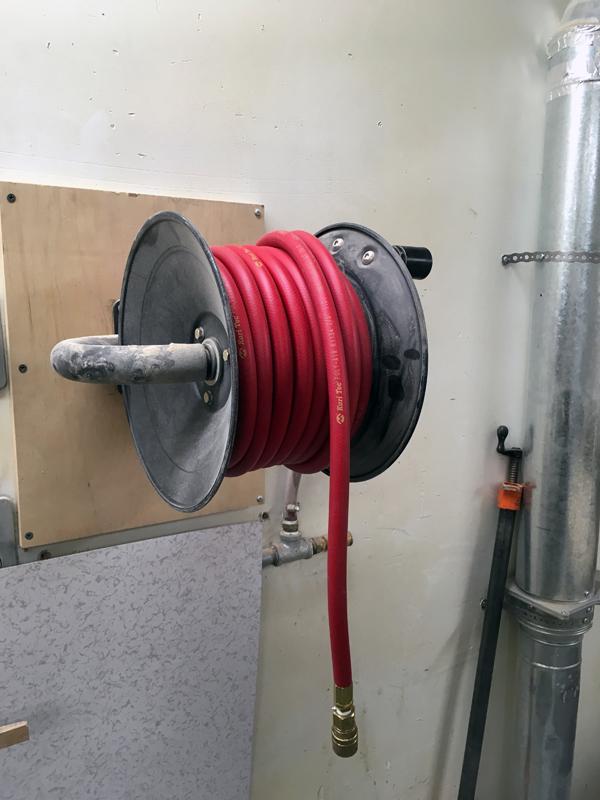 NEW AIR HOSES
Nothing is more annoying than stiff air hoses. The cheap blue plastic ones that were on these hose reels were a prime example. Thus we upgraded to the soft rubber hoses. That a difference this has made. We have two of these and will soon be installing one more.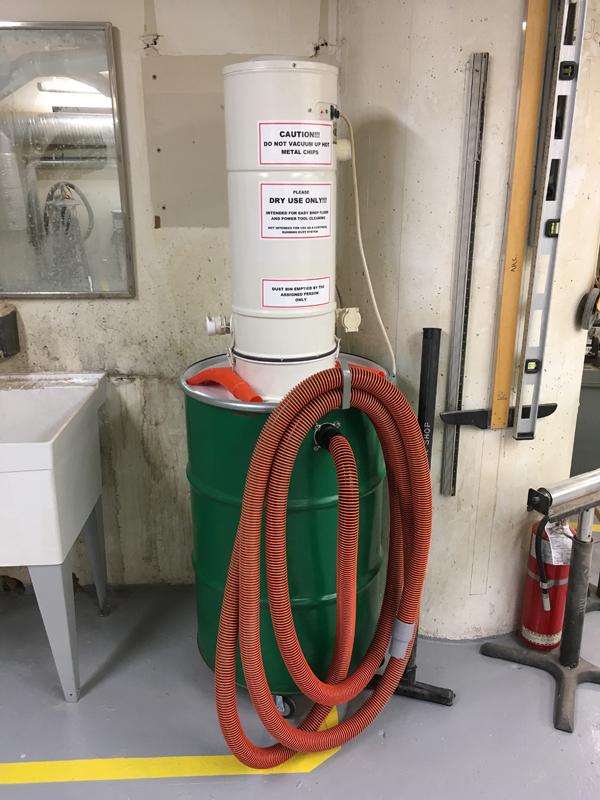 SHOP VAC SYSTEM
Using shop dues I manage to put together this central shop vac for cleaning floors etc. The top is a home central vac scored off of craigs. The new drum also from craigs. The orange hose was from Lee Valley Tools. The two good things about this is the fact it only needs emptied every two or three months. It is hugely quieter than the normal shop vacs and has as much suction! The drum has wheels so it can be moved around if needed. The hose though is long enough to do all the wood shop and some of the metal shop.
Compared to using a broom this takes about 1/4 the time to do the whole shop. On top of that does a hugely better job without riling up so much dust.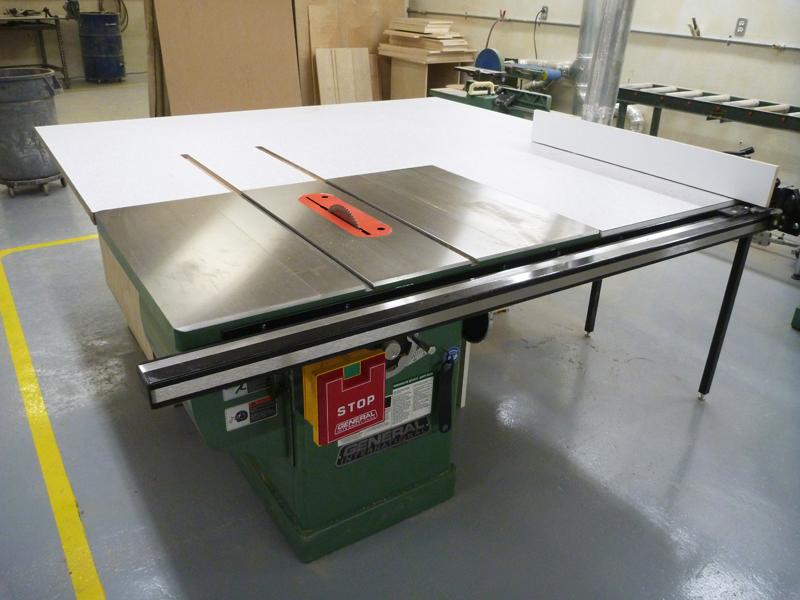 NEW TABLE SAW (Octoberish 2015)
The first thing that had to go was the old worn out Delta table saw with this new General Saw. This is one sweet saw and the top of the line for General other than their full on industrial grade saws. The $3500. needed for this saw was generously covered by the gang down at Reliance's head office thanks to approval from Lynn!!!
NEW TABLE TOP FOR TABLE SAW
Of course the saw by itself would not be half as good were it not for the surrounding table made by one of our talented tenants,Mario, who also overseas the shop and does orientations for new inmates prior to their use.